This page highlights AAA Metals Company, Inc.'s relationship with our customer's/partner's projects or service capabilities. It also gives insight into how we convert raw material into finished products.
Stadium Projects:
This project is from Weiss Sheet Metal Inc. who has a unique ability to provide their customer with quality and know-how that exceeds their expectations. We have had the pleasure of working with Weiss over the years on many projects. The link provided highlights our Stainless Steel that we Supplied & Polished for Weiss which they fabricated for Fenway & Yankee Stadium.
View gallery from Fenway & Yankee Stadium

In-House Projects:
Polished Stainless Flat Bar, 20' Square & Rectangular Stainless Tubing, Polished Architectural Bronze Flat Bar, Round Polished Stainless Tubing, Flats Boxed and ready for shipment, Water Jet and Polished Plate, Vacuum Lifting to ensure scratch free material.
Drilled & Polished Grade 304 Flat Bar, Polished Stainless Angles, Stacks of Polished Stainless Plate ,Water Jet and Polished Plate
Before and After 6" IPS x Sch 40 Grade 316 Pipe, Cut and Polished and 2" x 72" x 120" Grade 304 Polished Plate
---
Polished Grade 316 Stainless Steel Vacuum Chamber End Plate
With our custom built polishing machinery, at AAA Metals Company we are accustomed to processing workpieces with oversized proportions and challenging design with quality criteria. Inside our facility, one of the most impressive and unique pieces of equipment is our custom-engineered plate polisher that features 144.0" diameter capacity. This machine gives us the technical ability to accommodate polishing projects that very few metal polishing companies in the country could undertake. Using this polisher, we ground and polished two of the vacuum chamber end plates highlighted here and for a local customer.
Weighing 6,000 pounds, this end plate was constructed from 2.5″ thick 316 stainless steel, measures 110.0" in diameter, and features cutouts and an oblong tail. Requirements called for grinding and polishing both sides of the plate to an ANSI #4 (Ra 32) finish without rounding the edges on either the outer diameter or the cutouts. To hold and maneuver the workpiece, we used special fabric lifting straps to preserve surface quality since lifting chains could possibly scratch or gouge the finish. In addition, it was necessary to take extra precautions during grinding and polishing to ensure no sharp edge cut through the lifting straps and compromised their lifting capability.
Despite the complexity, this project only took us only three days to accomplish. We performed a comprehensive surface inspection using a diamond tip tester to confirm that both sides of each workpiece conformed to specifications. The customer was exceptionally pleased with our swift service, precision accuracy, and reasonable pricing.
With our specialized equipment, we perform grinding and polishing for customers all over the United States. To learn more about our grinding and polishing services, contact us directly.
Specifications
| | |
| --- | --- |
| Project Description | Stainless Steel Grade 316 Water Jet Cut into a 110 in. Diameter Vacuum Chamber |
| Capabilities Applied/Processes | Remove the Hot-Rolled Annealed and Picked (HRAP) Mill Finish and Grain Polish |
| Equipment Used to Manufacture Part | AAA Metals Custom Built Auto Polisher |
| Material Used | Grade 316 Stainless Steel |
| Material Finish | Ra 32 |
| Industry for Use | Vacuum |
| In Process Testing/Inspection Performed | Inspected with a Diamond Tip Surface Tester |
| Production Volume | 2 Pieces Both Sides |
| Delivery/Turnaround Time | 3 d |
| Delivery Location | New England |
| Standards Met | ANSI #4 |
Overall Part Dimensions
| | |
| --- | --- |
| Overall Thickness | 2-1/2 in |
| Overall Diameter | 110 in |
---
Polished Grade 304 Stainless Steel Column Covers
Constructed from 14 gauge stainless steel and measuring 8" in diameter, these tubes were designed for use as decorative column covers. The bright, reflective finish provides a modern, high-end aesthetic that is sustainable and maintenance-friendly. Our approach to creating a finish that was entirely free of nicks and scratches involved completely removing the surface scale of the hot-rolled annealed pickled and surface (HRAP), grinding out the weld joint to produce a seamless appearance, and using non-metal abrasives to attain a Ra 32 polished surface.
The challenges we overcame revolved around handling light wall tubing and the ovality of the cross-section. Leveraging their skills and experience, our grinding specialists chose the most appropriate consumables while paying detailed attention to aspects such as the grinding angle, the pressure applied, and their grinding and polishing techniques. For quality assurance, we measured roughness using a diamond tip surface tester to ensure the finish complied with customer specifications. As shown in the photographs, the results were impressive.
In a span of two weeks, we polished 24 lengths of tubing in various lengths up to 20.0', vinyl wrapped and placed them in protective packaging, for shipping to the customer. By combining quality artisanship with first-rate customer service, we earned ourselves a repeat customer.
To learn more about the processes we used to polish these column covers or to request a quote for polishing services, contact us directly.
Specifications
| | |
| --- | --- |
| Project Name and Description | Stainless Steel Column Covers |
| Equipment Used to Manufacture Part | Pipe and Tube Polisher |
| Material Used | Grade 304 Stainless Steel |
| Material Finish | # 6 Scotch Brite Ra 20/25 |
| Industry for Use | Retail |
| In Process Testing/Inspection Performed | Diamond Tip Surface Tester |
| Production Volume | 24 Lengths |
| Delivery/Turnaround Time | 2 w |
| Delivery Location | South East Coast |
Overall Part Dimensions
| | |
| --- | --- |
| Overall Outside Diameter | 8 in |
| Overall Wall Thickness | 14 gauge |
| Overall Length | Various Lengths Up to 240 in |
---
Polished Grade 304L and 316L Stainless Steel Hand Rails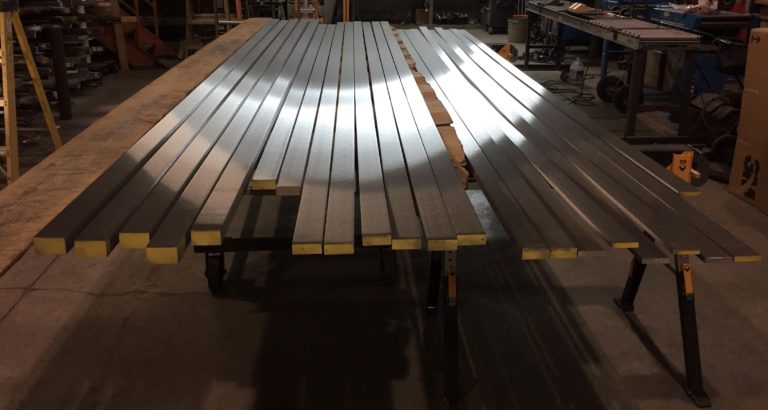 As a metals distributor with a portfolio of value-added services that offer quality and convenience, at AAA Metals we have acquired a solid base of repeat customers. We are accustomed to grinding and polishing orders on a daily basis, so it was no problem for us to furnish one of our clients with a total of 30 polished stainless steel bars processed in a day. These precision polished pieces measured from 1″ x  2″ x 144" to 1/2″ x 2″ x 144″ long in length and were targeted for use in a handrail application.
We stock an extensive inventory of 304L and 316L stainless steel flat bar in our warehouse. Production entailed the use of multiple head grinders and both auto edge and auto face polishers. Our technicians used these machines to mechanically abrade the surface using a series of gradually finer abrasives to remove the hot rolled annealed and pickled (HRAP) finish and obtain a commercial #4 polish. By consistently concentrating on their technique, our grinding and polishing specialists produced an exceptionally uniform finish on both the face of the bar and the edges. Quality assurance involved using various instruments to examine the surface and ensure it was free from pits, scratches, or other defects. We vinyl wrap and then package the completed handrails for our driver to deliver them directly to the customer.
With our high-performance service teams, we have the talent and the capacity to react quickly to customer requests and fill orders in an expedited manner. As a key competitive differentiator, it helps us successfully win and keep customers. For more information about our services and capabilities, contact us directly.
Specifications
| | |
| --- | --- |
| Project Name and Description | Rail Job |
| Capabilities Applied/Processes | Surface Grinding |
| Equipment Used to Manufacture Part | Auto Edge and Auto Face Polishers Multiple Head Grinders |
| Material Used | Grade 304L Stainless Steel Grade 316L Stainless Steel |
| Material Finish | Commercial #4 Polish |
| Industry for Use | Railing |
| In Process Testing/Inspection Performed | Surface Tester |
| Production Volume | 30 Bars |
| Delivery/Turnaround Time | 1 d |
| Delivery Location | New England |